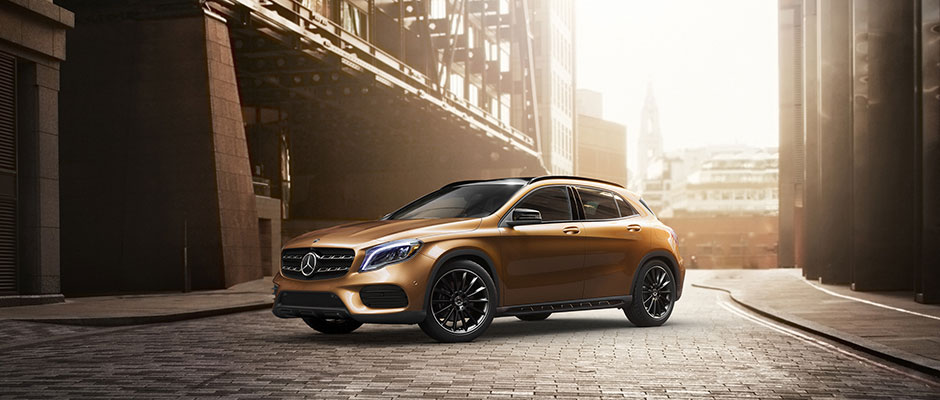 The 2018 Mercedes-Benz GLA SUV is a Top Choice for Refined Practicality
Perhaps you're after something that's a lot of fun to drive, but you need more space than the average car. Maybe you want something that can be easily equipped with child seats and you don't want to end up in a boring SUV or minivan.
Enter the 2018 Mercedes-Benz GLA models. These compact luxury SUVs are elegant and practical. They're great in downtown Houston and in rural Texas. You don't have to make a single compromise.


City Driving at Its Best
Zip around Houston with confidence. Radar sensors can help you park wherever there's room, and a rearview camera lets you see for yourself what's back there. The GLA SUV can even let you know if you're starting to look drowsy while you're driving.
Head Out on the Open Road
City or country, with optional navigation, you can hit the road knowing you can always find your way.
The 2018 GLA has multiple drive modes, so you can make the most of its agile 208 horsepower or tone it down for eco-conscious driving. There's an off-road mode to really put the "sport utility" in sport utility vehicle. Traverse the family farm with ease and don't waste any time worrying about road conditions at your favorite campsite.


Spacious and Elegant Interior
The 2018 GLA models give you generous cargo space with available hands-free access. Rear seats fold down so you can configure the seating and cargo arrangements you need on the fly.
Interior materials are, naturally, upscale. You'll love the softness and timeless sophistication that surrounds you.
An 8-inch touchscreen gives you access to apps and controls, and Bluetooth connectivity is standard. Apple CarPlay and Android Auto are available if you'd like the easiest possible integration with your compatible smartphone.
The Mercedes-Benz GLA looks great and sounds great, but driving it is the only way to know for sure that it's your next vehicle. Please come visit our showroom for a test drive.
>>> Browse for a Mercedes-Benz GLA